The Finger Guns ::: Seattle WA
New album, 'Blowsy' is here!
"These five tracks are some of the crispest and cleanest punk we've ever heard, and it does not come at the cost of The Finger Guns' soul." - Neufutur Magazine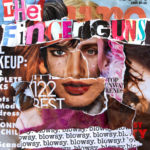 Our new album, 'Blowsy' is here and we couldn't be more stoked!
Available only digitally, you can find it on all of your favorite streaming platforms. It is available for download for a reasonable price of $5 on our Bandcamp site here. Let's go!
The Finger Guns Live At The Crocodile
Check out a short film about The Finger Guns shot and produced by Channel 13 chronicling our show this past November at Seattle's historic Crocodile Café!
Vinyl album, "Sasquatch" now available!
The new record has been a blast to make and all of the hard work has paid off. The album sounds amazing and is absolutely stunning looking. Limited to 300 pressings on antifreeze-green vinyl, the album can be ordered here: Sasquatch by The Finger Guns <<<-- Sent directly to your home or lair!
Retail locations
Get your copy of Sasquatch at the following Northwest locations. More to come shortly.
Review Quotes:
"The opening track, All These Scars is a catchy rocker with elements of Nirvana and Husker Du mixed with The Clash! The superb Superstitious just oozes hooks and melody with a great vocal and 'punch the air' atmosphere." - Punk Online
"A refreshing rip roaring melody. That reminds everyone there's still a place for classic punk/ alt rock." - Bad Ass Productions
"Today's featured band certainly has a firm grasp on their genre and does a splendid job of blending punk with a touch of garage rock and maybe a hint of rockabilly but at the same time making it relevant for 2017." - Northwest Music Scene
About The Finger Guns
The band's influences bring out songs that have a sensibility that spans decades: short, fast, and sweet punk n' roll assembled from bits and pieces of early 80's punk, 90's angst, 00's irony, and even a dash of country here and there.
Let's book shows together! booking@thefingerguns.com
Download our onesheet here.
Upcoming shows
We are working on a load of shows for 2020. Check back soon!
Want to see where we have played? Check out our past shows.
Join our mailing list
Get show updates, special offers, and zero junk from us.
Join us on Spotify
The Finger Guns are continuing to slap tracks out like a rock-and-roll racehorse. We are pleased to present to you our third album, YETI.
Recorded and mixed in three days at Earwig Studio by Don Farwell, these five diverse songs don't let off the throttle and are guaranteed to make your feet move (air drums are optional).
Give the songs a spin and come see us live at one of our many show dates.
The Bigfoot EP
The Finger Guns are supporting their release "The Bigfoot EP" which features 5 high-energy songs recorded at Georgetown's hit factory Earwig Studio with the legendary Don Farwell. Like a monster you just can't quite describe, the tracks are fun, loud, proud, and come with an extra sprinkle of rock on top.
A Double EP
Our inaugural album. Because we like to do things our way, this is a double EP that is spread over two discs in one package. Could we have fit 38 minutes of rock on one disc? Theoretically, yes - but that isn't as fun. We still love these songs and are always stoked to share them.
Past shows
2019:
Saturday November 23rd Eastside Bar and Gril Portland, OR 21+ | Friday October 25th - Black Zia Cantina Burien, WA | Saturday October 19th - The Valley Tacoma, WA 21+ | Friday October 11th - Wally's House of Booze Wenatchee, WA | Saturday September 28th - Black Zia Cantina Burien, WA | Saturday August 17th - Private Event | Friday August 16th - Slim's Last Chance Seattle, WA | Saturday August 10th - Hogan's Pub, Clarkston, WA | Friday August 9th - Lakers Inn Coeur D Alene, ID - 21+ | Thursday July 4th - Yakima Apple Jam Yakima, WA 7:00pm All Ages | Saturday June 15th - Tony V's Garage Everett, WA - All ages | Friday, May 24th - Belltown Yacht Club Seattle, WA -21+ | Sunday May 19th - University Street Fair 5pm - Seattle, WA - All ages | Thursday April 25th - Plaid Pig Tacoma, WA | Saturday April 13th - Emerald Of Siam Richland, WA | Saturday April 13th - Off The Record Yakima, WA 3pm All Ages | Friday April 12th - Wally's House of Booze - Wenatchee, WA | Thursday April 11th The Pin - Spokane, WA | Saturday March 30th The Waterfront - Bellingham, WA | Thursday February 21st Chop Suey - Seattle, WA | Friday January 18th - Tony V's - Everett, WA
2018:
Saturday December 15th - Slim's Last Chance - Seattle | Saturday November 24thth - The Crocodile - Seattle, WA | Saturday October 6th - The Kraken - Seattle | Saturday September 29th - El Corazon - Seattle | Wednesday September 19th - The Sunset - Seattle | Saturday August 11th - Showbox Market - Seattle (with Black Happy) | Friday August 10th - The Crocodile - Seattle, WA | Friday August 10th - Taste Edmonds Main Stage - Edmonds, WA | Friday August 3rd - Knitting Factory - Spokane (with Black Happy) | Thursday August 2nd - Old School Records - Kalispell, MT | Saturday June 30th - Tony V's - Everett, WA | Saturday June 16th - SLAM Cancer Benefit - All Ages Tony V's - Everett, WA | Friday June 1st - The Kraken - Seattle | April 21st - Slim's Last Chance - Seattle | April 12th - The Kraken - Seattle | April 7th - The Central - Seattle | February 22nd - Tony V's - Everett WA | February 3rd - The Kraken - Seattle | Thursday, January 4th - Substation
2017:
Friday, December 1st - Slim's Last Chance Seattle, WA 21+ | Friday, November 3rd - The Valley Tacoma, WA 21+ | October 23rd - Funhouse w/Bruiser Queen and FEA - Seattle, WA 21+ | Monday, September 4th - Slim's Last Chance 21+ 2-6 PM | Saturday, August 26th - Barboza 21+ Seattle 7pm | Friday, August 18th - Seattle Tattoo Expo 8pm | Saturday, July 15th - The Parliament 21+ Seattle | Friday, July 14th - Victory Lounge 21+ Seattle | Friday, June 16th - Tony V's - Everett WA | Thursday, June 15th - Substation - 21+ Seattle | Friday, June 9th - Old School Iron Works - Seattle, Secret Show 9pm | Friday, June 9th - Studio 7 - Seattle, ALL AGES 5pm | Saturday, April 29th - Substation - 21+ Seattle | Tuesday March 28th - The Funhouse - Seattle WA | Thursday March 16th - The Swiss - Tacoma | Saturday March 4th - The Big Dipper - Spokane | Saturday Feb 25th - Anchor Pub - Everett
2016:
Saturday, December 31st - Tim's Tavern 21+ Seattle | Friday, December 9th - The Mirkwood 21+ Arlington, WA | Saturday, December 3rd - The Blue Room 21+ Portland, Or | Thursday, December 1st - The Substation 21+ Seattle, Wa | Friday, November 18th -The Parliament 21+ Seattle | Saturday, October 1st - The Skylark 21+ Seattle | Friday, September 16th - The Mirkwood All Ages Arlington, WA | Sunday September 18th - Tony V's 7pm - All ages - Everett | Thursday, August 11th High Dive - 21+ Seattle | Friday, July 22nd - West Seattle Rock Party 21+ Seattle | Wednesday, June 22nd - The Highline 21+ Seattle | Saturday, June 18th - The Mirkwood All Ages - Arlington, WA | Friday May 13th! - Lucky Liquor 21+ Seattle | Saturday April 30th - Darrell's 21+ North Seattle | Saturday April 16th - S.L.A.M. Art Fest Tony V's All ages - Everett | Friday March 18th - Slim's Last Chance - 21+ Seattle | Friday March 11th - The Mirkwood - - All Ages Arlington | Friday, March 4th - High Dive - 21+ Seattle | Thursday, January 21st- Substation - 21+ Seattle
2015:
Saturday, December 19th - High Dive - 21+ Seattle | Friday December 4th - Slim's Last Chance - 21+ Seattle | Saturday, November 14th - The Checkerboard - 21+ Spokane | Saturday October 31 **Halloween!!** - The Mix - Seattle | Saturday, October 24 - Substation - Seattle ***CD RELEASE!!!*** | Thursday, September 10 - High Dive - 21+ Seattle | Thursday, August 27th - International Pop Overthrow Fest @ The Skylark - 21+ Seattle | Saturday, August 8th The 1 AM Lounge - All ages - 8:30pm - Seattle/Fremont No cover | Saturday, August 1st - Art of the City Streetfair Main Stage 1pm All Ages - Seattle | Saturday, July 25th - Paula's Wine Knot - Private Event - Monroe WA | Friday July 10th - Tim's Tavern w/ KLAW - 21+ Seattle | Thursday, July 2nd - Substation - Seattle | Saturday June 20th - Draft Punk Festival - The Swiss - Tacoma 1:30pm - outdoor stage - All ages | Friday June 5th - The Mix - Seattle | Friday May 15th - Darrell's 21+ North Seattle | Friday May 8th - Rockos - 21+ Everett | Saturday April 11th - Slim's Last Chance - 21+ Seattle | Tuesday - March 31st - High Dive w/Sleeze (National act) - 21+ Seattle | Saturday March 21st - The Skylark - 21+ Seattle | Friday March 20th - Flights - 21+ Everett | Saturday February 7th - Slims Last Chance - 21+ SEATTLE
2014:
Friday December 19th - The High Dive - 21+ SEATTLE | Friday December 12 - Rockos - 21+ Everett | Friday October 31st - The Shanty - 21+ SEATTLE | Saturday October 18th - Darrells Tavern - 21+ SEATTLE | Wednesday October 1st - LO-FI - SEATTLE | Saturday Sept 6th - Darrells Tavern - 21+ SEATTLE | August 27th - The Highline (with JPNSGRLS) - SEATTLE | Friday August 1st - The High Dive - SEATTLE | Saturday July 19th - Alki Music Fest - SEATTLE | Friday July 18th - Darrells Tavern - 21+ SEATTLE | Friday July 11th - Slims Last Chance - 21+ SEATTLE | Tuesday July 8th - The Sunset - 21+ SEATTLE | Saturday June 21st - El Corazon Lounge - All Ages, Bar w/ID SEATTLE